Leadership Training & Development
Healthcare leaders and administrators are continually learning new ways to enhance the quality and efficiency of their organizations. These programs are specifically developed for leadership and management positions for clinicians.
Training includes tutorials on how to deliver feedback to health care staff, instruction for how to maximize the potential of their teams, and other valuable leadership skills.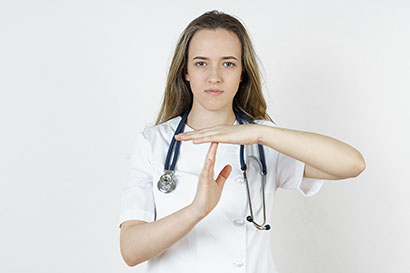 De-escalation Training: Responding to Crisis
Acts of aggression and violence against health care workers are on the rise in the United States. This course teaches essential techniques to identify an impending crisis, respond appropriately, and prepare far in advance.
This one-hour course can be taught virtually, or in-person.
Executive Education for Healthcare Professionals
University of Utah David Eccles School of Business created an executive education series to address real-world challenges for those working in healthcare leadership positions. Eccles School of Business Executive Education classes provide tools for individuals to make an immediate impact on their organizations.
Licensed RNs who hold an Associate Degree in Nursing can earn a Bachelor of Science in Nursing online. Nurses who earn a Bachelor of Science in Nursing Degree gain valuable leadership and clinical skills, are eligible for more jobs, and earn a higher salary. This program is flexible and affordable. Clinical hours and clinical practicum can be completed at your place of employment.
The Patient Connection
Patient care starts and ends with connection, whether it's in-person or virtual. Chief Medical Information Officer Maia Hightower, Medical Assistant Eileen Prats, and Physician Assistant Christin Van Dine share how a five element virtual visit is built on person-to-person human connection.
By Maia Hightower, Eileen Prats, and Christin Van Dine 
"Thank You for Being Human"
Transition to Virtual Care: Cardiovascular Center
Director Lora Stratton details how Utah's Cardiovascular Center leveraged team creativity and rapid problem solving to make—and sustain—the shift to virtual care. Cardiologist Anu Abraham shares what it looks like in practice.
Anu Abraham and Lora Stratton
Access "The Transition to Virtual Care"
How to Rapidly Become a Virtual Clinician
Many clinicians and patient support departments are taking a dive into virtual care. Whether by telephone, video, or chat, providers who never envisioned themselves as virtual clinicians are now suddenly just that. Veteran virtual clinician Jonathan Chao and new virtual provider Karly Pippitt share their experiences with what works.
By Jonathan Chao and Karly Pippitt
Learn "How to Become a Virtual Clinician"
Webside Manner: Three Core Competencies to Master
Just because we use technology every day doesn't necessarily make us excellent virtual care providers. Melissa Briley, physician assistant at Redstone Health Center, shares three core competencies needed to master the delivery of high quality virtual care.
By Melissa Briley
Access "Webside Manner"
Designing a Virtual Clinic Workflow that Actually Works for Your Team
Chronic conditions do not pause for patients during a pandemic or in any other situation that makes travel prohibitive. In 2020 when faced with delaying the care of over 1,000 patients with neurological conditions, Susan Baggaley, Neurology Vice Chair and Ambulatory Chief Value Officer, and Vivek Reddy, Neurology Vice Chair and Inpatient Chief Value Officer, rapidly developed a new virtual visit workflow.
By Susan Baggaley and Vivek Reddy  
Find Out More